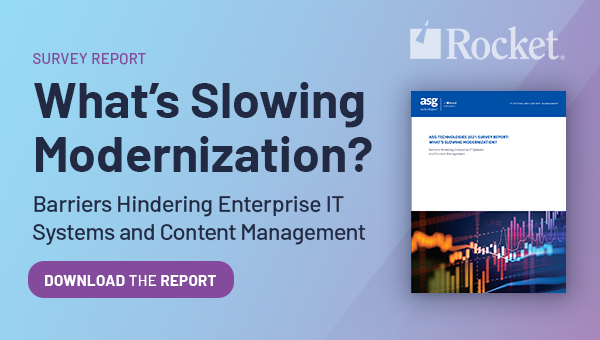 Survey Report: What's Slowing Modernization?
While we live in a modern age, surprisingly few enterprises have completely modernized their technology infrastructure. Many have taken on digital transformation projects or leveraged leading-edge technologies like artificial intelligence and machine learning, however much of their content management and IT systems still operate on decades-old principles.
Increasing remote work and the complexities of an ever-changing regulatory environment now demand modernization of information rich processes and the systems they run upon. Organizations can accelerate their modernization efforts by prioritizing content governance and hybrid infrastructures spanning mainframe to cloud.
The key findings of the report show:
The Value of Content Remains Unrealized –– 56% – are struggling to realize the full value of their content.

Content Governance Will be a Key to Success

– Despite the importance of realizing the full value of information, two-thirds (66%) of respondents reported that their organization does not have modern content governance processes.
The Mainframe is Still Modern

– 49% of respondents noting that most, if not all, of their core business functions still run on the mainframe.

Hybrid Infrastructure Becomes Mainstream – 52% of respondents say their organizations have a hybrid cloud ecosystem that includes the mainframe, and another 34% want one that does.
For more details on these findings, download the complete survey.

239-435-2200
Offering Solutions for:
Data management and Systems management

Learn More